TLS 2200®/TLS PC Link™, Permanent Polyester BradyBondz™ Labels, White, 0.650" x 0.200"
TLS 2200®/TLS PC Link™, Permanent Polyester BradyBondz™ Labels, White, 0.650" x 0.200"
PTL-9-423-6691
MFG #: PTL-9-423
Available to Order - 0 on Hand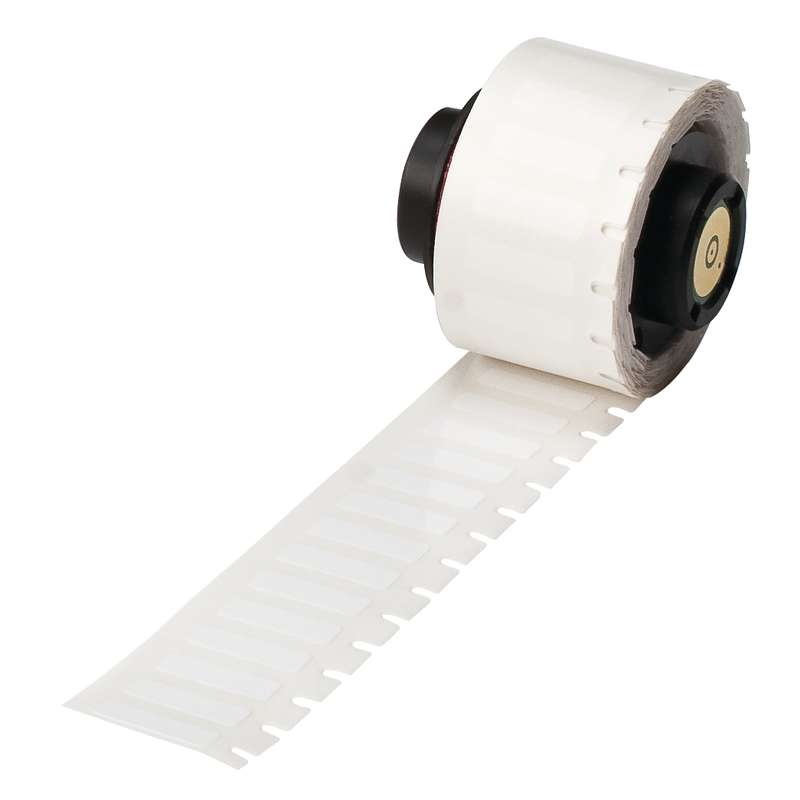 Brand Name:

Brady

Product Type:

Thermal Transfer Label

Color:

White

Primary Color:

White

Indoor or Outdoor Use:

Outdoor Use

Minimum Service Temperature:

-70°C

Thickness:

0.003in

Resistance Properties:

Humidity Resistant; Salt Fog Resistant; Abrasion Resistant; Chemical Resistant; UV Light Resistant; Weather Resistant

Finish:

Gloss

Adhesive Type:

Permanent Acrylic

Printer Compatibility:

TLS 2200® Printer, TLS-PC Link, BMP®71

Recommended Ribbon Series:

R6000 Halogen Free; R4400; R4900; R6200; R6010

Length:

0.2in, 2.0 in.

Material:

Polyester

Material Category:

Plastic

Width:

0.65in, 2.0 in.

Height:

1.0 in.

Shape:

Rectangular

Compatible Surface Type:

Textured; Powder Coated

Applications:

Electronic PCB and Component Identification, Bar Code Label and Rating Plates and Solar Panel Identification, Equipment ID, Asset Tracking, General Purpose ID

Quantity per Roll:

750

Standards Met:

ASTM D 1000, ASTM D 2979, ASTM G155, ASTM B 117, Federal Standard 191A Method 5306, UL Recognized Component to UL Listed 969 Labeling/Marking Standard, UL Listed File No. MH17154, CSA Accepted to C22.2 No.0.15-95, CSA Certified File No. 041833, DIN V

Storage Conditions:

Ambient
The Brady PTL-9-423 is a white, polyester, 0.65 x 0.2" thermal transfer label. The durable heavy-duty label is manufactured with an aggressive adhesive and is designed to stick to almost all industrial environment surfaces.
Brady PTL-9-423 Features:
Brand: WorkHorse&reg
Product Type: Thermal Transfer Label
Color: White
Primary Color: White
Indoor or Outdoor Use: Outdoor Use
Minimum Service Temperature: -70°C
Thickness: 0.003in
Resistance Properties: Humidity Resistant, Salt Fog Resistant, Abrasion Resistant, Chemical Resistant, UV Light Resistant, Weather Resistant
Finish: Gloss
Adhesive Type: Permanent Acrylic
Printer Compatibility: TLS 2200&reg Printer, TLS-PC Link, BMP&reg 71
Recommended Ribbon Series: R6000 Halogen Free, R4400, R4900, R6200, R6010
Length: 0.2in
Material: Polyester
Material Category: Plastic
Width: 0.65in
Shape: Rectangular
Compatible Surface Type: Textured, Powder Coated
Applications: Electronic PCB and Component Identification, Bar Code Label and Rating Plates and Solar Panel Identification, Equipment ID, Asset Tracking, General Purpose ID
Quantity per Roll: 750
Standards Met: ASTM D 1000, ASTM D 2979, ASTM G155, ASTM B 117, Federal Standard 191A Method 5306, UL Recognized Component to UL Listed 969 Labeling/Marking Standard, UL Listed File No. MH17154, CSA Accepted to C22.2 No.0.15-95, CSA Certified File No. 041833, DIN VDE 04